K. N. Tripathi sworn in as Meghalaya Governor
Shillong: West Bengal Governor Keshari Nath Tripathi was sworn in as Meghalaya Governor at the Raj Bhavan here today.Meghalaya High Court Chief Justice Uma Nath Singh administered the oath of office and secrecy to Tripathi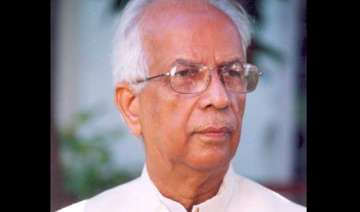 PTI
January 06, 2015 18:04 IST
Shillong: West Bengal Governor Keshari Nath Tripathi was sworn in as Meghalaya Governor at the Raj Bhavan here today.
Meghalaya High Court Chief Justice Uma Nath Singh administered the oath of office and secrecy to Tripathi at the century-old Raj Bhavan which was attended by Chief Minister Mukul Sangma, his cabinet colleagues and senior civil and police officials.
Tripathi became the 19th Governor of this hill state, succeeding Krishan Kant Paul, who was transferred to Uttarakhand as the Governor of that state.
Tripathi would continue to hold the office of Governor of West Bengal until further orders, Raj Bhavan sources said.
The outgoing Governor Paul was given a warm send off by the Chief Minister and his cabinet colleagues yesterday.