Karunanidhi and BJP's TN allies slam railway fare hike
Chennai:  Slamming the rail fare hike, DMK chief M Karunanidhi today said that though BJP government promised to set right the "wrong precedents" of UPA government, its approach was no different from its predecessor's on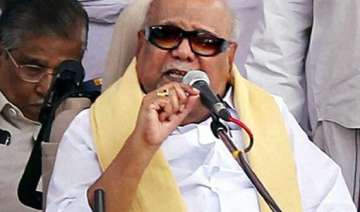 PTI
June 21, 2014 14:06 IST
Chennai: 
Slamming the rail fare hike, DMK chief M Karunanidhi today said that though BJP government promised to set right the "wrong precedents" of UPA government, its approach was no different from its predecessor's on certain issues.
BJP's Tamil Nadu allies, DMDK and MDMK, also sought a rollback of the fare revision.
Karunanidhi said the hike came close on the heels of issues like Sri Lankan Navy's continued action against Indian fishermen, New Delhi's 'relationship' with that country's President Mahinda Rajapakase and hike in diesel price, all after the BJP came to power.