Karunanidhi welcomes passage of National Food Security Bill
Chennai: Welcoming the passage of the National Food Security Bill in the Lok Sabha, DMK president M. Karunanidhi Tuesday hoped that it could be amended in the future based on the experience of implementing the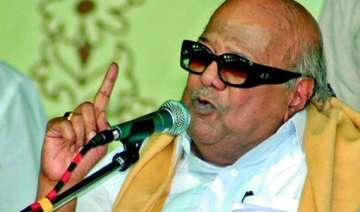 IANS
August 27, 2013 14:38 IST
Chennai
: Welcoming the passage of the National Food Security Bill in the Lok Sabha, DMK president M. Karunanidhi Tuesday hoped that it could be amended in the future based on the experience of implementing the measure.
He also appreciated Congress chief Sonia Gandhi for being instrumental in bringing the bill.
"It is a welcome step that the Food Security Bill has been passed in the parliament (Lok Sabha) 66 years after India's independence. It is satisfactory to note that the amendments suggested by DMK and other parties have been incorporated in the bill," Karunanidhi told reporters here.
He said though there are some more changes to be made in the bill, in course of time and based on the experience they would be carried out.
Referring to the debate on the bill in the Lok Sabha Monday, Karunanidhi said it is good to function as an opposition party and not an enemy party with major opposition parties voicing their views welcomed the bill.
Queried about the recent arrest of 35 Indian fishermen by the Sri Lankan Navy, he said Prime Minister Manmohan Singh, Gandhi and the union government should take responsibility and act fast on the matter.
Delaying action, by just saying action would be taken, will put our fishermen in a hopeless position, he said.