Kejriwal announces Rs 551 cr loan for striking workers, MCD Mayor slams offer
New Delhi: In a move aimed at putting an end to the ongoing strike by the MCD workers, Delhi Chief Minister Arvind Kejriwal today announced a loan of Rs 551 crore for the payment of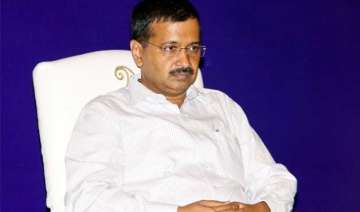 India TV News Desk
February 03, 2016 18:30 IST
New Delhi: In a move aimed at putting an end to the ongoing strike by the MCD workers, Delhi Chief Minister Arvind Kejriwal today announced a loan of Rs 551 crore for the payment of the salaries to the employees of two municipal corporations.
The workers of all the three civic bodies of Delhi, viz., North Delhi Municipal Corporation, South Delhi Municipal Corporation and East Delhi Municipal Corporation, have been on a strike for the last eight days protesting against the non-payment of their salaries.
"We are giving Rs.551 crore to the north and east municipal corporations as loan for payment of salaries of workers," Kejriwal said in Bengaluru, where he is undergoing treatment at a naturopathy centre.
The North Delhi Municipal Corporation will also be paid Rs.142 crore against the stamp duty bill, he said.
"It is with great difficulty that we have been able to find this Rs.550 crore for loan. The Delhi government is facing Rs.3,000 crore value added tax shortfall," Kejriwal said soon after he announced the loan.
Accusing BJP for the entire fiasco, Kejriwal also said that the Modi government had been misusing the MCD and demanded a CBI enquiry over the scam of non-payment of salaries to MCD workers.
However, the MCD Mayors have not taken too kindly to the CM's loan offer. Reacting to statements issued by the Delhi CM, Mayor of the north MCD Ravindar Gupta said, "North MCD is ready for the CBI enquiry but Kejriwal should come face-to-face with us instead of playing games from Bangalore."
Directing his ire at Kejriwal, he further said, "He should go to Agra for his mental check-up as such talks can severely hamper his mind."
The strike called by civic employees in the national capital over non-payment of their salaries continued today with thousands of workers blocking major roads and creating traffic snarls causing inconvenience to commuters.
As part of their agitation, sanitation workers of the civic bodies staged demonstrations on major roads in Delhi, including the National Highways that skirt it. Among others, traffic was blocked on east Delhi's Vikas Marg, inconveniencing commuters.
Hospitals and schools run by civic bodies were also affected as doctors, hospital staff, teachers and school employees joined the protest.
Protestors dumped garbage on roads and set tyres ablaze at various places. With uncollected garbage strewn along roads, an overpowering stench pervaded most municipal areas.

(With IANS inputs)