Kejriwal seeks greater share of taxes Delhi gives to Centre
New Delhi: Delhi Chief Minister Arvind Kejriwal today pitched for a greater share for the national capital of the taxes it pays to the Centre and said the state government was not at loggerheards with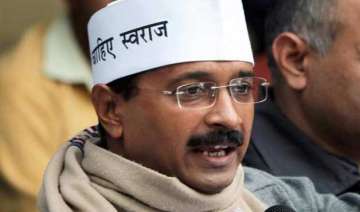 PTI
April 07, 2015 20:32 IST
New Delhi: Delhi Chief Minister Arvind Kejriwal today pitched for a greater share for the national capital of the taxes it pays to the Centre and said the state government was not at loggerheards with the union government.  
He said it is not just that the Centre gives money for the development of the national capital but Delhi also gives Rs 65,000 crore in terms of taxes to the Centre and in return gets only Rs 325 crore.
"There is a misconception that the Centre gives money for the development of Delhi. The Centre does not give (enough) money. Delhi contributes Rs 65,000 crore through the taxes collected by the Centre in the form of income and service taxes. But in return, Delhi gets only Rs 325 crore, which is wrong.
"If the Centre gives us a greater share, we will contribute more and take this Rs 65,00 crore to Rs 80,000 crore to Rs 1 lakh crore. This will increase economic activity in the city, " Kejriwal said.
The Delhi chief minister, who was speaking at a Confederation of Indian Industry (CII) event, also tried to downplay the tussle between the Centre and the state government.
"We are not at loggerheards. We don't want to fight with anyone. Everyone has its own limits and rights. The Constitution has given responsibilities to everyone constituent. So, there will be a difference of opinion, which we will be sorted out.
"There is a technical hitch. The Finance Commission decides how much is to be allocated to states. Delhi is not included in terms of reference of the Finance Commission.  "We will write a letter to the Centre but you (media) will then say we are at loggerheards. But we are demanding our rights," he said.
Asked to rate the peformance of the Narendra Modi-led government, Kejriwal initially refrained to comment but later said people gave their verdict during Delhi assembly polls.  
"In a democracy, it's people who assess the performance.  Their performance was evident during Delhi assembly polls," Kejriwal said.