Kejriwal visiting Varanasi on Tuesday, AAP starts door-to-door campaigning to counter Modi
Varanasi: Even as the Aam Aadmi Party is yet to decide whether to field Arvind Kejriwal or some other leader against BJP prime ministerial candidate Narendra Modi, the party has secretly started its door-to-door campaigning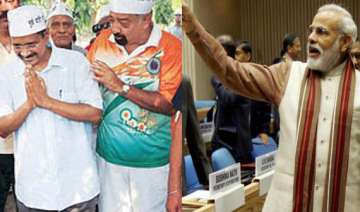 India TV News Desk
March 23, 2014 9:18 IST
Varanasi
: Even as the Aam Aadmi Party is yet to decide whether to field Arvind Kejriwal or some other leader against BJP prime ministerial candidate Narendra Modi, the party has secretly started its door-to-door campaigning in the localities of Varanasi.
Arvind Kejriwal is visiting Varanasi on Tuesday, March  25, when he may announce his intention to take on Modi in this BJP stronghold.
Aam Aadmi Party had launched its membership drive in Varanasi in January this year. Led by nearly 100 active AAP workers, groups of supporters visited villages and localities to reach the voters.
AAP is focussing on creating awareness against corruption among illiterate and semi-literate voters, alongwith its promises of providing cheap water and power.
AAP volunteers are distributing caps and badges in large numbers, which are being lapped up by local residents.
Poorvanchal in-charge of AAP Sanjeev Singh says, our aim is to provide our election symbol "broom" (jhaadu) to each and every household, for which we are holding meetings in assembly constituencies.
Nearly three thousand AAP workers have reached Varanasi from Delhi and Lucknow. They are meeting people in colleges, university, slums and the famous ghats.
AAP volunteers have also met safai karmacharis, auto rickshaw drivers, railway porters, petty shopkeepers, boatmen, traders, teachers and shiksha mitras to hear out their problems.
AAP workers are also trying to touch the religious chords of devotees at the ghats by questioning the slogan "Har Har Modi" on the lines of "Har Har Mahadev".  These  workers are asking people how the BJP could play with the religious sentiments of devotees of Lord Shiva by coining a slogan on Modi.
AAP workers do not fail to point out that the BJP had been winning the Lok Sabha seat and the municipal corporation since the last several years, but the civic conditions have not improved.