Kerala: Finance minister K M Mani took 5 Cr bribe, claims a new audio
Thiruvananthapuram: Kerala Finance minister K M Mani has courted a new controversy  with the leak of a new audio that contains shocking disclosures in the form of recorded conversations between prominent bar owners. The audio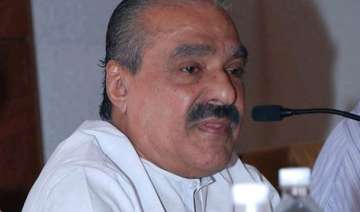 India TV News Desk
January 21, 2015 18:15 IST
Thiruvananthapuram: Kerala Finance minister K M Mani has courted a new controversy  with the leak of a new audio that contains shocking disclosures in the form of recorded conversations between prominent bar owners. The audio was released by Bar Hotel Owners' Association working president Biju Ramesh on Tuesday.
The audio was recorded during a meeting of the association held on December 31st last year.  
In the audio, sources close to Ramesh said Animon-state executive committee member of the association had gone with Rs 5 crore to Mani's Pala house at 1 am on an unspecified date. He was accompanied by Elegance Bar owner Binoy." There is a currency counting machine at his residence,'' he is heard saying amid guffaws of others present. "He asked us to come the next day with Rs 2 crore, he further added.
In the new leaked tape of 22 minute duration, Animon claims that Mani had demanded Rs 30 crore as bribe for not letting the case to be reopened - the 418 bars closed on March 31 last year and to let only 312 bars function.
As per the leaked tape, Animon had demanded assurances from Mani as they had gathered the money by taking loans from private moneylenders.
To this Mani had come back saying that he would take care of that. Animon is also heard in the tape saying that the Rs 5 crore was given to him by one Sunil Swamy.
The audio tape is just the opposite of the version Animon gave to vigilance investigators on Saturday. So, Ramesh planned to hand over the CD to vigilance SP R Sukesan, today.
Based on the new evidence a fresh statement by Ramesh will also be recorded by the vigilance committee.