Kerry, Modi to discuss agenda for Obama's visit today
New Delhi: US Secretary of the State, John Kerry, who is here to attend the Vibrant Gujarat Summit 2015, is scheduled to meet Prime Minister Narendra Modi today. The two leaders are expected to discuss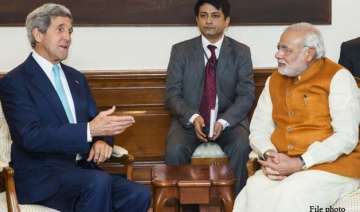 India TV News Desk
January 12, 2015 8:52 IST
New Delhi: US Secretary of the State, John Kerry, who is here to attend the Vibrant Gujarat Summit 2015, is scheduled to meet Prime Minister Narendra Modi today. The two leaders are expected to discuss a broad range of bilateral and global issues, including climate change.
Agenda for US President Barack Obama's visit to New Delhi later this month will also be discussed.
Kerry will also be today holding a round-table with American CEOs participating in the three-day long summit which was kicked-off yesterday in Gujarat's capital, Gandhinagar.
State Department Spokesperson Jen Psaki, while referring to the USD 100 billion bilateral trade between both the countries, said that the summit is an opportunity to further the goal that Obama and Modi have talked about in terms of increasing trade five-fold to USD 500 billion.
Obama is scheduled to attend Republic Day celebrations on January 26. This will be the first time that an American President will land in New Delhi as the nation's chief guest on the occasion.