BJP has stopped fringe groups on conversion issue, Kiran Bedi tells Aap Ki Adalat
New Delhi: Kiran Bedi, BJP's chief ministerial candidate in Delhi, has said the party leadership has effectively stopped the fringe groups from going ahead on issues like "gharwapsi" and re-conversion issues.Replying to questions in Rajat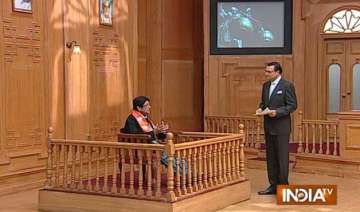 India TV News Desk
January 24, 2015 15:17 IST
New Delhi: Kiran Bedi, BJP's chief ministerial candidate in Delhi, has said the party leadership has effectively stopped the fringe groups from going ahead on issues like "gharwapsi" and re-conversion issues.
Replying to questions in Rajat Sharma's show Aap Ki Adalat, to be telecast on India TV tonight, Kiran Bedi said: "they are fringes. Fringes have been stopped, they have been given the message. The message has been conveyed in the party leadership's own style.
"Neither gharwapsi is a crime, nor conversion is a crime. Everybody in India has the right to convert from one religion to another voluntarily, but the law says, conversion through coercion is crime.
"BJP says, if there is any problem with conversion, let there be a debate and a law be enacted. But you can't ban conversions. You've to give the right of choice."
Asked why Prime Minister Narendra Modi was silent on the issue, Bedi quipped: "How do you know Modiji is silent?  The problem is, some things are conveyed through media, some other things are decided within the party. I think, the leadership should have this right and the PM should not speak on every issue.
"The PM is trying to solve the nation's problems seriously and he speaks very carefully, what to say publicly and who to say in the Sangh, in the party.  Sangh, or sangat, is a collective. But the message is very clear, the agenda is single - Sabka Saath, Sabka vikaas".
Asked why the Muslims were wary about her, Kiran Bedi said: "Ask any Muslim brother, whether I practised discrimination in any of my work. For me, Hindu, Muslims, Sikhs, Christians all are same. 21 years ago, when I was filling up the All India Civil Services form, I wrote 'humanity' against the religion column. Humanity encompasses all religions. Muslims are Indians. We have made our nation as a bouquet."
When Rajat Sharma pointed out that the Muslims were wary about the party, Bedi laughed and said: "It's the party which has nominated me. Am I different from my party?"
Bedi described as "exaggerated" reports in media that local BJP leaders in Delhi were unsatisfied over her projection as CM candidate. "Harsh Vardhanji was late for the tea party meeting, and he himself rang me up to say that he was late. Sometimes media exaggerated things."
Asked how BJP leaders who had served the party for 40 years would tolerate her as CM candidate who had joined 40 hours before, Bedi replied: "I have seen one good quality among them. The credit goes to their history, the workers. Once a collection decision is taken, they all fall in line, in the sense, they all work together. It is a disciplined party."
On the criticism that the party does not need a thanedar, but a leader, Bedi replied: "Even  a thanedar (SHO) can be a leader. A leader is one who has a distant vision, has discipline, honesty, the quality to take everybody along. Such person becomes a leader, otherwise he becomes a follower."
The BJP chiefministerial candidate revealed that the credit for bringing her into the party goes to Finance Minister Arun Jaitley.   
"Arun Jaitleyji  played a strong role in my entry, that's the truth. And not him alone, others too..but he played an instrumental role in my coming into BJP."
Bedi hit out at her Aam Aadmi Party rival Arvind Kejriwal, alleging that he had not only lied to the voters of Delhi but also misled Gandhian leader Anna Hazare before his fast.
"He (Kejriwal) sat on fast without taking permission from Anna, then called Anna. ...You can ask him..Anna didn't even know what the fast was meant for. He (Kejriwal) was adamant over sitting on fast. His motive was to reach Parliament. So the very foundation (of his entering politics) was based on a lie."
On Kejriwal's remark that Kiran Bedi was not a challenge to him, but to BJP leaders, Bedi replied: "He (Kejriwal) has many challenges. He just doesn't understand. The main challenge is from the public, the voters,  whether they will trust him again or not.
"The voters are wary, whether he will run away again and force another election. His motive was always - sadak (road) to sansad (parliament).  Let's still wish him well. But will the voters forget his list of lies. The list is too long. I have seen him lie."
Bedi hit out at Kejriwal for asking voters to take bribes from BJP and Congress, and vote for AAP.
"For the first time, he seemed to have spoken a truth. But he lied by half, saying they (BJP, Cong) will give money. and his half-truth was: give me your vote. Point is: this is also a bad thing. Such things should come to the EC's notice. This is very bad. We want to change this type of politics.  
"He (Kejriwal) is teaching corruption to the people, he is corrupting them. Why didn't he say, refuse money if your are offered, and vote for me. Spreading corruption among the people is by itself a violation of code of conduct."
She also lashed out at Kejriwal for acting more like a businessman. "He is charging for getting clicked with people, for signing autographs, for attending dinners, and even for speeches."
Bedi outlined her agenda for the people of Delhi, saying that she would follow the "6Ps" for ensuring women safety and prevention of crimes against women. The "6Ps" include principals and parents, community policing, prison reforms, fast prosecution, and the press.  
Bedi also promised a hotline for the people to lodge their complaints, which would be monitored by the chief minister's office on a daily basis.