Kiran vs Kejriwal: 'The lady' leads on Twitter while 'the man' rules FB
New Delhi: As the Delhi Assembly polls are approaching near, the social media war between the two stalwarts – BJP's Kiran Bedi and AAP's Arvind Kejriwal is also gaining momentum.With the two not missing any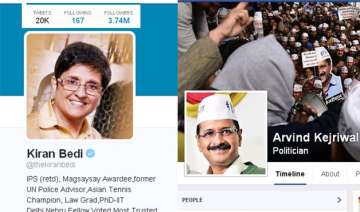 India TV News Desk
January 23, 2015 19:04 IST
New Delhi: As the Delhi Assembly polls are approaching near, the social media war between the two stalwarts – BJP's Kiran Bedi and AAP's Arvind Kejriwal is also gaining momentum.
With the two not missing any opportunity to dart each other's public image, they have waged the 'word war' for lakhs to decide whom to follow.
While Kiran Bedi, BJP's candidate for Chief Minister's post, is much ahead of Kejriwal on Twitter, the latter has given her a strong beat on Facebook.
Kiran, currently, is being followed by 37.30 lakh followers on Twitter while she follows only 165 people in turn. Having started her account in 2009; she has posted around 20,000 tweets till date and has also uploaded around 1796 photos and videos.
In a short span of time, since Kejriwal joined twitter, he also became quite famous with 33.30 lakh people following him. He joined the social media platform in 2011 and is currently following only 108 people.
He lags quite a lot in the photo and video race, as till date he has uploaded only 70 photos and videos on twitter as compared to 1796 of Bedi.
He is not very active on this open platform especially since the time he lost Lok Sabha elections when he was completely out of sight from public's view. Till date he has tweeted only 4755 times on Twitter.
The third runner of the race, Ajay Maken – the Congress candidate also prefers to interact socially through this renowned platform. However, he lags much behind the two.
He joined Twitter in 2009, before Bedi and Kejriwal, and has around 3 lakh followers while he follows 562 people in turn. He is lesser active than Kejriwal and has posted only 1384 tweets till date but incase of photos and video uploading he leads the latter as he has a score of 233 on his account.
Talking about Facebook, then the AAP scion beats Bedi there as he has 5,766,150 likes till date while 'the lady' has only 850006.