Koda Admitted To Hospital As Raids Continue On His Premises
As raids continued on his premises, former Jharkhand Chief Minister Madhu Koda, who is being grilled by the Income Tax officials in connection with alleged hawala transactions, was on Tuesday admitted to a hospital in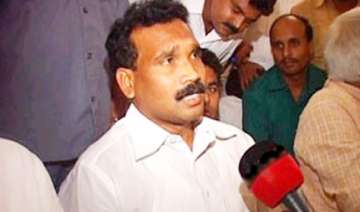 PTI
November 03, 2009 16:58 IST
As raids continued on his premises, former Jharkhand Chief Minister Madhu Koda, who is being grilled by the Income Tax officials in connection with alleged hawala transactions, was on Tuesday admitted to a hospital in Ranchi after he complained of high blood pressure and stomach ache.
The IT officials, who have accused Koda of non-cooperation in the investigations, are ascertaining whether his complaint of illness is a ruse to duck further questioning.
"He was admitted to hospital around noon after he complained of some ailment. He is in the intensive care unit. The doctors are attending on him and only after getting the pathological report can we say anything about the ailment," a spokesman of the Abur Razzak Memorial Weavers Hospital Javed Akhtar told PTI.
One of the doctors attending on him said Koda was discharged from the hospital a week back after being treated for a kidney ailment.
"Today, he came complaining of stomach ache and his blood pressure was high," the doctor said adding a series of tests were being conducted on him.
 38-year-old Koda is being questioned by IT officials in connection with alleged huge hawala transactions and illegal investments.
The officials claimed to have unearthed documents showing that Koda had sent Rs 560 crore abroad through the hawala route. PTI