Lalu Calls For Legal Action Against Raj Thackeray
Demanding legal action against MNS MLAs and their leader Raj Thackeray for assaulting an SP legislator in Maharashtra Assembly, RJD supremo Lalu Prasad on wednesday said the regional party is out to "harm the integrity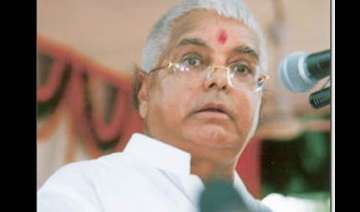 PTI
November 11, 2009 21:44 IST
Demanding legal action against MNS MLAs and their leader Raj Thackeray for assaulting an SP legislator in Maharashtra Assembly, RJD supremo Lalu Prasad on wednesday said the regional party is out to "harm the integrity and unity" of the country. 
Referring to the Monday's incident in Maharashtra Assembly where the MNS MLAs assaulted Samajwadi legislator Abu Azmi for taking oath in Hindi, Prasad reiterated his earlier demand that the MNS be banned and legal action initiated against the MLAs and Raj Thackeray. 
"The MNS is out to harm the integrity and unity of the country...Nobody will tolerate such an act," Prasad told reporters in Patna .
Prasad, who along with LJP chief Ramvilas Paswan was addressing a function organised by a Muslim organisation 'Insaaf', said, "we will step up pressure on the UPA government at the Centre for early implementation of the reports of the Sachar Committee, Justice Ranganath Mishra Commission and Fatmi Committee for the uplift of minorities." 
The two leaders lauded the role of Prime Minister Manmohan Singh for ensuring tabling of the reports of these committees in Lok Sabha. 
Paswan renewed his demand for providing reservations to Christians and 'Pasmanda Muslims' by making certain amendments to Article 341 of the constitution. PTI