Lalu gives back to BJP for 'Jungle Raj 2' barb
Patna: After Amit Shah's barb of 'Jungle Raj 2' against Bihar Chief Minister Nitish Kumar due to his growing proximity to RJD, an enraged Lalu Prasad today hit back at BJP saying that people would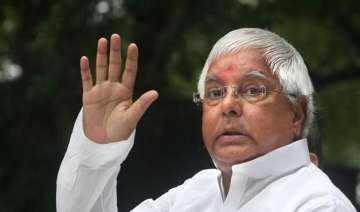 PTI
April 04, 2015 23:23 IST
Patna: After Amit Shah's barb of 'Jungle Raj 2' against Bihar Chief Minister Nitish Kumar due to his growing proximity to RJD, an enraged Lalu Prasad today hit back at BJP saying that people would puncture its excitement in upcoming Assembly elections in the state.
"People will puncture their (BJP's) excitement in the coming Bihar elections," the RJD chief said a day before his party's national executive meeting here which would take a decision on merger with old Janata Parivar and take stock of current political situation.
"BJP is a party of 'thugs' (cheaters) having expertise in spreading rumours," Prasad told reporters reacting to the BJP president's barb.
"Vinashkale viprit buddhi (wrong sense prevailing before impending ruin)", the RJD President said using a well known adage to hit out at BJP.
Prasad accused the BJP-led NDA government at the Centre for working against the interest of Bihar and alleged that it was because of them that no investor was coming to the state despite of promising opportunities.
Later, addressing a rally at Chenari in Rohtas district, he poked fun at BJP chief Amit Shah calling him 'Gangu Teli' (an inconsequential person).
Referring to Shah's comment, Prasad said he should first answer about the jungle raj that "BJP has established in the entire country."
"BJP seems to have taken contract to speak lies," he added.
Setting the tone for a bitter electoral battle due this October, Shah, in his inaugural speech at the BJP National Executive meeting yesterday had alleged "Jungle Raj 2" was in place in Bihar after JD(U) broke off alliance with it in the wake of Narendra Modi being declared the party's prime ministerial candidate.
The expression "Jungle Raj" was used to deride the law and order situation which prevailed in Bihar during the 15 years of RJD rule in the state from 1990 to 2005.