Lalu Yadav dares Ram Vilas Paswan to impose President's Rule in Bihar
Patna: In the wake of Union Minister and LJP chief Ram Vilas Paswan's call for President's Rule in Bihar, RJD chief Lalu Prasad Yadav on Monday dared the NDA government to impose Central rule in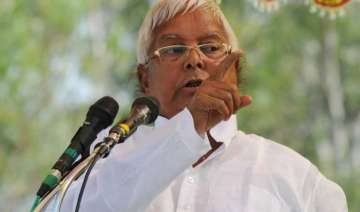 India TV News Desk
February 09, 2016 8:18 IST
Patna: In the wake of Union Minister and LJP chief Ram Vilas Paswan's call for President's Rule in Bihar, RJD chief Lalu Prasad Yadav on Monday dared the NDA government to impose Central rule in the state.
"Kiski majaal hai ki Bihar me Rashtrapati shashan laye (who can dare to impose President's Rule in Bihar). Those criticising law and order should give details of law and order in other states. Our government has been functioning well," Lalu said while addressing the election meeting in support of Congress nominee for Harlakhi Assembly seat, Mohammad Shabir.
Condemning the murder of party Brijnath Singh in the state capital last week, the LJP had said that law and order situation in Bihar had collapsed and President's Rule was the only option.
Reacting to the probe into Brijnathi Singh's murder, Lalu said that police officials are thoroughly investigating the case and the guilty would not be spared.
"But the Opposition is trying to create confusion. They did not gain anything by invoking the jungle raj in the Assembly polls last year. They are still trying to gain political mileage by making similar allegations," he said.
The RJD president also attacked Prime Minister Narendra Modi saying 'communal tension has increased' in the country during the NDA rule.
"Communal tension has increased in the country during Narendra Modi's rule. The PM did not rein in his party leaders making provocative communal statements. His hot headed leaders earlier talked about sending Muslims to Pakistan, but instead of them, Narendra Modi himself went to Pakistan unannounced," he said.
The by-poll was necessitated due to the death of Rashtriya Lok Samata Party (RLSP), an ally of the BJP, MLA Basant Kushwaha, a day before taking oath of the new House.
With Agency Inputs