Latest AAP infighting vindicates my decision to leave that group: Kiran Bedi
New Delhi: Coming out in support of the ousted AAP leader Prashant Bhushan, who has written an open letter addressing Arvind Kejriwal accusing him of turning AAP into a "high command-oriented" party in an open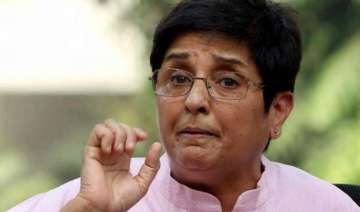 India TV News Desk
April 04, 2015 19:21 IST
New Delhi: Coming out in support of the ousted AAP leader Prashant Bhushan, who has written an open letter addressing Arvind Kejriwal accusing him of turning AAP into a "high command-oriented" party in an open letter, former IPS officer and BJP leader Kiran Bedi said latest infighting within the party was a clear enough proof of why she had left the group very early.
"Why do you think I and even a few others left the group early on?" she tweeted.

Bhushan, who was recently removed from party's National Executive and PAC, in an open letter to Kejriwal stated that he and his coterie have turned the party into a 'supremo-oriented, high command culture kind of party'.
"God and history will not forgive what you are doing to the party," the letter reads, adding "Goodbye and good luck."
Bhushan, Yogendra Yadav and two others were expelled from AAP's National Executive on March 28 for their alleged 'anti-party activities'.
Read More: Goodbye and good luck, Prashant Bhushan writes to Arvind Kejriwal