PM cleared controversial Goa candidate: Congress
Panaji:  The Congress said on Wednesday that Prime Minister Manmohan Singh had approved the nomination of controversial Lok Sabha candidate Ravi Naik.Goa Congress president John Fernandes was asked how the party gave ticket to former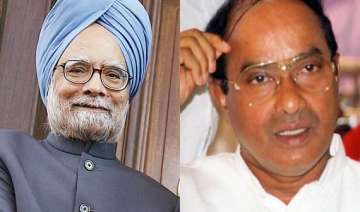 IANS
March 19, 2014 21:26 IST
Panaji: 
The Congress said on Wednesday that Prime Minister Manmohan Singh had approved the nomination of controversial Lok Sabha candidate Ravi Naik.
Goa Congress president John Fernandes was asked how the party gave ticket to former home minister Naik, who has been linked to drug mafias.
"These issues about drug links and all came before our central committee while deciding party ticket. The prime minister was there. He himself cleared it," Fernandes told reporters.
"The intelligence report also said there was nothing against him (Naik)," he added, after announcing the names of Congress candidates Naik (North Goa) and Aleixo Reginaldo (South Goa).
Naik earlier blamed the media for the allegations against him. "The media created all this. I have no charge against me," he said.
Asked to respond on the findings of a legislative committee in which he and his son Roy have been accused of having links with the drug mafia, he said: "People who have been hurt by me have done this."