Live: Both Modi and Rahul are Ambani's stooges, says Kejriwal at Kanpur rally
Kanpur: It seems Ambani bashing has become a major part  of Arvind Kejriwal's strategy for upcoming general elections.Addressing 'Jhadu Chalao Beimaan Bhagao' rally in Kanpur today, Former Delhi Chief Minister once again  accused both Narendra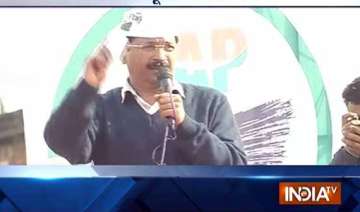 India TV News Desk
March 02, 2014 19:16 IST
Kanpur:
It seems Ambani bashing has become a major part  of Arvind Kejriwal's strategy for upcoming general elections.
Addressing 'Jhadu Chalao Beimaan Bhagao' rally in Kanpur today, Former Delhi Chief Minister once again  accused both Narendra Modi and Rahul Gandhi of playing in the hands of Mukesh Ambani.
Raking up his favorite topic of gas pricing, Kejriwal once again castigated Modi and Rahul for their silence on gas pricing. Kejriwal said he has written to both Modi and Rahul asking whether they will sell gas to Ambani for USD 4 or 8 in case they come into power after the 2014 general elections.
"Some people say Modi is very good and he will save the nation. I want to ask him, will you sell gas to Ambani for USD 4 or 8? I wrote a letter to him asking the same question but he chose not to reply. Do you know why? The reason is that he uses Mukesh Ambani's helicopters. BJP spends almost Rs 50 crore on each of Modi's rallies.  The money that Modi spends in his rallies comes from Ambani. How is it possible that Modi, who claims that he used to sell teas, own so many helicopters? Same is the case with Rahul. He also flies in Ambani's helicopters," said kejriwal.
Kejriwal once again shared the alleged Swiss bank account numbers of Ambani brothers with the public and challenged Modi to bring the money back if he becomes PM. 
"They say they'll bring back black money. I'm giving you the Swiss account number of Ambani brothers. It's 5090160983 and 5090160984.
(Neither Reliance Industries limited nor Mr. Mukesh Ambani  hold any illegitimate accounts, RIL has clarified in a press release)
Let's forget about Ambani, why is it that Modi never speaks against Robert Vadra? I wonder if Modi has settings with Vadra as well! If you remember correctly, I had exposed Robert Vadra's fraudulent land deals sometime back but Modi never said anything on that, added Modi.