Live reporting: Delhi police takes AAP leaders Ashutosh, Shazia Ilmi for questioning
New Delhi: With the Election Commission seeking a report from Delhi Police in connection with yesterday's violent clashes in Delhi, Delhi Police today swung into action and took two senior Aam Aadmi Party leaders Ashutosh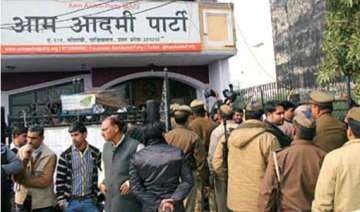 India TV News Desk
March 06, 2014 23:16 IST
New Delhi:
With the Election Commission seeking a report from Delhi Police in connection with yesterday's violent clashes in Delhi, Delhi Police today swung into action and took two senior Aam Aadmi Party leaders Ashutosh and Shazia Ilmi for questioning .
Delhi police officials first went to Model Town office of AAP and took Ashutosh for questioning. Another team went to Shazia Ilmi's residence and took her for questioning.
Amidst huge deployment of police outside the Aam Aadmi Party office in north Delhi's Model Town, senior police officials  took Ashutosh to the police station for questioning .
Coming out of the AAP party office, Ashutosh said, "I am a law abiding citizen. I am willing to cooperate with the police in its investigation. I would like to appeal to all AAP workers not to raise slogans and not to resort to violence. We are law abiding people. If anybody indulges in violence, he will be expelled from the party."
Asked by a reporter whether he was going to be arrested, Ashutosh said: "It is up to the police to decide what to do. We will place our version."
Ashutosh with a knapsack on his back, alongwith the local AAP MLA later left for the police station.
Coming out of her residence, AAP leader Shazia Ilmi said, "for the last three years we have staging non-violent protests. Yesterday whatever happened would be the first and last time. But let me make it clear, we were at the received end of attacks by BJP supporters. But the police FIR made no mention of a single BJP worker."
Ashutosh and Shazia Ilmi had led their supporters yesterday when clashes broke out between AAP and BJP workers outside the BJP headquarters.