Live: Shiv Sena to continue alliance with NDA
Mumbai: Shiv Sena has softened its stand as far as its alliance with BJP in Maharashtra is concerned.Party spokesperson Sanjay Raut told reporters that the alliance of Shiv Sena with BJP will continue as Shiv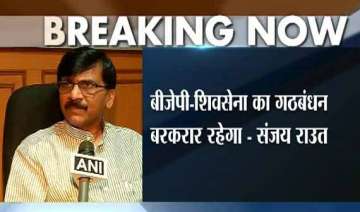 India TV News Desk
March 11, 2014 15:49 IST
Mumbai:
Shiv Sena has softened its stand as far as its alliance with BJP in Maharashtra is concerned.
Party spokesperson Sanjay Raut told reporters that the alliance of Shiv Sena with BJP will continue as Shiv Sena is one of the oldest allies of the BJP.
Shiv Sena had threatened to review its alliance with BJP after MNS chief Raj Thackeray declared his support to Narendra Modi for Prime Minister Post.  
MNS also released its list of candidates for LS elections and put up candidates against Shiv Sena candidates but did not field candidates from seats being contested by BJP. This move of MNS had further infuriated Shiv Sena chief Uddhav Thackeray.