LoC attack: Why are you providing escape route to Pakistan, asks Jaitley
New Delhi, Aug 6: Leader of the Opposition in Rajya Sabha Arun Jaitley today termed the Defence Minister's statement as "ambiguous" and took a dig, saying that he hoped it was a "typographical error".Linking it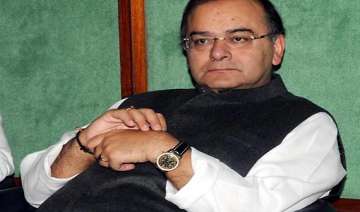 PTI
August 06, 2013 22:24 IST
New Delhi, Aug 6:
Leader of the Opposition in Rajya Sabha Arun Jaitley today termed the Defence Minister's statement as "ambiguous" and took a dig, saying that he hoped it was a "typographical error".
Linking it to the Sharm-el-Sheikh episode of 2009 when the mention of Balochistan was found in India-Pakistan joint statement, the BJP leader said that by saying terrorists attacked "you are almost providing in this sentence an opportunity to Pakistan to say that they were non-state actors... It provides escape route to Pakistan, which always says not army but non-state actors" are behind such attacks.
Expressing "deep sense of sadness and anguish" over the incident, Jaitley said, "there is need to modulate our foreign policy to send a message to Pakistan that these kinds of attacks will not be tolerated. India must not lie down. It is time for befitting reply."
Taking a dig at those in government who say dialogue with Pakistan should be "uninterrupted and uninterruptible", the BJP leader said, "our pursuit against terrorism should be uninterrupted and uninterruptible."
He referred to plans for a meeting between Prime Minister Manmohan Singh and his Pakistan counterpart Nawaz Sharif in New York next month and said dialogue should depend on the attitude of Pakistan as the country's sovereignty is supreme.
Pakistan should not be entitled to have the benefit of doubt, he said, adding, "We must not live in fictional situations ... We must not show to the world that we are willing recipients of such attacks."
He said Pakistan has been always in a state of denial after such attacks whether it be cross-border terrorism, beheading Indian soldier in Poonch in January this year or Kargil war, by saying these were "terrorist attacks."
He wondered whether Pakistan government's strategy was different as far as civil government was concerned and different for institutions like army, ISI etc were concerned. "These kinds of strategies are not unknown for Pakistan," he said.
Saying that "some people felt enthusiastic when new Pak PM expressed desire to have peace with India," he questioned, "but is he in control of Pakistan? Who is in control of Pakistan is a big question...So Government of India must not lower its guard."
Contending that incidents like today's were not taking place in isolation, he referred to increased incidents of infiltration in the recent times.
"Our soldiers were beheaded, then there was case of Sarabjit Singh, two days back there was bombing outside Indian consulate in Jalalabad (in Afghanistan), there were series of cross-border incidents," he noted.
He also expressed concern that "assertiveness of the Chinese has suddenly increased" in last few months.
Jaitley said, "Chinese have been pitching tents, preventing our soldiers from patrolling."
He sought to link it to planned withdrawal of US-led forces from Afghanistan next year. "How India is going to fight terrorism is a matter of great concern in view of the intentions of its neighbour," he said.
Highlighting contractions in the statement made by the Defence Minister, Mukhtar Abbas Naqvi (BJP) sought to know the government's response to Pakistan for violating the Line of Control (LoC) for more than 67 times in last six months.
He also wished to know if the government has the "political will" to handle this situation.
"Our soldiers are killed, they are beheaded. But our response is weak. Sir, we have to confront. Nothing is bigger than the country," he noted.