Make Rahul PM, Says Amar Singh
Taking a dig at the Congress for giving credit to Rahul Gandhi each time a contentious issue was solved or a relief package announced, SP General Secretary Amar Singh on Friday  said it should make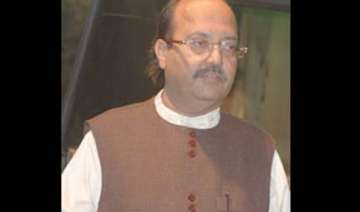 PTI
November 20, 2009 21:00 IST
Taking a dig at the Congress for giving credit to Rahul Gandhi each time a contentious issue was solved or a relief package announced, SP General Secretary Amar Singh on Friday  said it should make him the Prime Minister if he was doing all the work. 
"Rahul Gandhi is given the credit for solving all problems whether it is the sugarcane Ordinance issue or release of a relief package. Congress should make Rahul Gandhi the Prime Minister if he is doing all this. We have no problem in talking to him as PM about issues," Singh told reporters outside Parliament House. 
Rahul had met Prime Minister Manmohan Singh yesterday and discussed the sugarcane price issue after which the Congress said an amendment is likely in the Ordinance.
The government today announced that State Advisory Price (SAP) would be restored and the difference between Fair and Remunerative Price (FRP) would be paid by the mill owners and not the state governments. 
Gandhi has also been credited with getting the Rs 7,266 crore package for development of drought-hit backward region of Bundelkhand which covers parts of Uttar Pradesh and Madhya Pradesh. Union cabinet passed the package yesterday. 
 Amar criticised Manmohan Singh for allegedly "putting the blame" of Spectrum scam on his minister A Raja and for the sugarcane price issue on his colleague Sharad Pawar. PTI