Make skill development nationwide programme: Himachal CM
New Delhi: Himachal Pradesh Chief Minister Virbhadra Singh on Saturday stressed the need to make skill development a countrywide programme.He also emphasised the need to initiate capacity building programmes to create skill providers and trainers.Speaking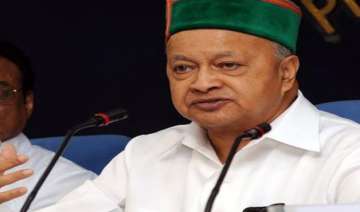 IANS
April 25, 2015 17:11 IST
New Delhi: Himachal Pradesh Chief Minister Virbhadra Singh on Saturday stressed the need to make skill development a countrywide programme.
He also emphasised the need to initiate capacity building programmes to create skill providers and trainers.
Speaking at a meeting of the sub-group of chief ministers on skill development here, he said his state has created a state-level skill development body to make policy directions, coordinate and implement activities related to skill development.
Punjab Chief Minister Parkash Singh Badal is the convener of the sub-group. Six chief ministers of the northern states attended the meeting.
"We have constituted a skill development corporation to plan, coordinate and implement most of the schemes and the corporation will provide an umbrella framework to improve coordination among all the departments concerned," he said.
He said an important part of the initiative was the skill development allowance scheme for educated unemployed youth.
"The scheme aims at providing skill development allowance of Rs.1,000 per month to all the beneficiaries and Rs.1,500 per month for people with disabilities," Virbhadra Singh said.
Emphasising on the need to create capacity building and enhancement of skill providers, he suggested that the central government should create a database of skill providers, both individuals and institutions.
He said financial support from the central government was a must to give a boost to the programme, especially for fiscally underdeveloped states like Himachal Pradesh.