Maken demands judicial inquiry into farmer's suicide
New Delhi: Delhi Congress Chief Ajay Maken today demanded a judicial enquiry by a High Court judge into the suicide of Rajasthan farmer Gajendra Singh during an AAP rally at Jantar Mantar here, and said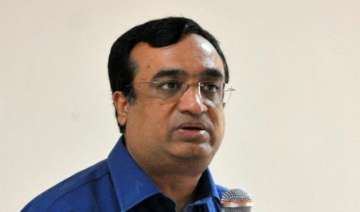 PTI
April 23, 2015 16:41 IST
New Delhi: Delhi Congress Chief Ajay Maken today demanded a judicial enquiry by a High Court judge into the suicide of Rajasthan farmer Gajendra Singh during an AAP rally at Jantar Mantar here, and said parties should avoid playing politics over the incident.
"We are asking for a judicial enquiry by a High Court judge because we strongly feel that whatever enquiry Delhi Police does that would always be put under question mark because it comes under the Centre that is ruled by BJP. The AAP may question that the police was working against an opposition party," he said.
Criticising AAP leaders including Delhi Chief Minister Arvind Kejriwal for continuing with their speeches at the rally despite the suicide by Gajendra, Maken said that proper arrangements were not in place to meet any eventuality.
"The AAP leaders instead of continuing with their speeches at the rally should have tried to save the farmer... Any other political party would do so but unfortunately they did not do so," he said.
Noting that his Congress party had made arrangements for fire tender and ambulance at the venue of its April 19 rally, Maken said only if a fire tender and an ambulance were there, the tragedy might have been averted.
"Political parties specially ruling parties should understand that that they no longer belong to opposition and ought to behave responsibly," he said, appealing to AAP to be responsible as it was now a ruling party.
Reacting to BJP's protest over Gajendra's suicide, he said, "BJP has no moral ground to indulge in dharna and demonstrations. Farmers' condition has been deteriorating from bad to worse and the incident took place during a rally that was held against its Land Acquisition Bill."
Delhi Congress leaders and workers will gather under the neem tree at Jantar Mantar from which Gajendra hanged himself during the AAP rally, to pay homage at 6.30 pm today, he added.