Mamata asks partymen to counter offensive against her on Saradha scam
Kolkata: In a bid to counter the political offensive by her critics on Saradha chit fund scam, Trinamool Congress chief Mamata Banerjee today asked party leaders to prepare a list of those in opposition alleged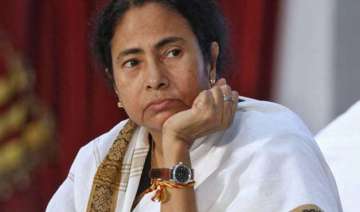 PTI
January 03, 2015 21:41 IST
Kolkata: In a bid to counter the political offensive by her critics on Saradha chit fund scam, Trinamool Congress chief Mamata Banerjee today asked party leaders to prepare a list of those in opposition alleged to have been associated with ponzi firms.
Defending senior colleagues Madan Mitra, now in jail, and TMC General Secretary Mukul Roy, Banerjee was quoted as telling a closed-door party meeting "Madan and Mukul (Roy) have done no wrong. As they are deeply involved in the party organisation, a dirty political conspiracy is being hatched to put them behind the bars in order to weaken the party."
Emerging from the meeting of TMC core committee, the leader, requesting anonymity, said Banerjee told the meeting that from now on she would herself look after the party organisation which was so far being done by Mukul Roy.
"From now on, Mamatadi herself will look after the organisation. She said that due to immense pressure of running the government, she couldn't look after the organisation. But from now on she will look after it. She will look into strengthening the party further," the leader said after emerging from the meeting.
Incidentally, Mukul Roy, considered the second in command after Banerjee, was absent at the meeting while Mitra, the state Transport and Sports Minister, is in CBI custody in connection with the Saradha scam. Roy was looking after TMC's organisational affairs since it came to power in 2011.
Aiming to counter opposition attack against TMC over the Saradha scam, the West Bengal Chief Minister asked the leaders to prepare a list of those in other parties involved in any chit fund company.
"Our party supremo has asked us to prepare a list of opposition leaders involved in any chit fund company. The message is clear, those opposition leaders who are campaigning against us are themselves neck deep in corruption. We just need to pull off their masks," the TMC leader said.