Mamata Banerjee demands Bharat Ratna for Big B
New Delhi: Trinammol Congress (TMC) supremo and West Bengal Chief Minister Mamata Banerjee today demanded Bharat Ratna, country's highest civilian award, for Bollywood star Amitabh Bachchan.She said that conferring Padma Vibhushan on the megastar is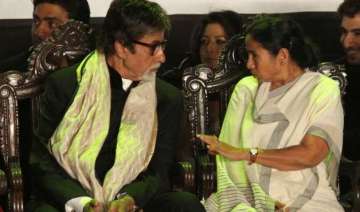 India TV News Desk
January 26, 2015 14:08 IST
New Delhi: Trinammol Congress (TMC) supremo and West Bengal Chief Minister Mamata Banerjee today demanded Bharat Ratna, country's highest civilian award, for Bollywood star Amitabh Bachchan.
She said that conferring Padma Vibhushan on the megastar is not enough and that the 72-year-old man deserves Bharat Ratna.
"The Padma Vibhushan to @SrBachchan not enough. Not enough. He is a legend in his lifetime. He deserves a Bharat Ratna," she tweeted.
The Government of India yesterday decided to confer Padma Vibhushan, the second highest civilian award of the country, on national award winning actor.
The latest reaction by the West Bengal Chief Minister is expected to up the political ante once again after Centre drew severe criticism from opposition last month for its decision to confer Bharat Ratna on Madan Mohan Malviya.
Meanwhile, reacting to this, Big B today said that he is honoured to be chosen for the award and he has no words to express his gratitude.
"The Government of India has decorated me today with the highest Padma Award of the country, the Padma Vibhushan...I have no words to express my gratitude to the powers that be and am most humbled and overwhelmed by the generosity of the people that decide or sit on judgement on this...'" Bachchan said.
Bachchan is also the recipient of the Padma Bhushan and Padma Shree.