Mamata Banerjee jittery as TMC MP Mukul Roy set to appear before CBI today
Kolkata: Trinamool Congress general secretary Mukul Roy will appear before the CBI in connection with the Saradha scam today.As per the sources he will go alone to CBI's CGO Complex office in Salt Lake, unaccompanied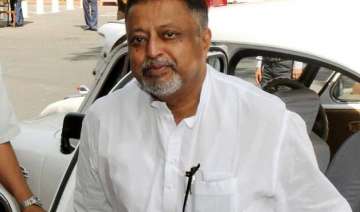 India TV News Desk
January 30, 2015 8:12 IST
Kolkata: Trinamool Congress general secretary Mukul Roy will appear before the CBI in connection with the Saradha scam today.
As per the sources he will go alone to CBI's CGO Complex office in Salt Lake, unaccompanied by any lawyer. As per the reports the MP would have some 30,000 supporters holding a dharna outside the CGO complex for moral support.
This is being called an "apolitical protest" although it is backed by Trinamool MLAs Sabyasachi Dutta, Nirmal Ghosh and Silbhadra Dutta and TMCP leader Sujit Shyam. They are all from North 24-Parganas and Mukul loyalists.
Roy will reach CBI office at 10 am though the procedure will start at 11 am.
 
"I will meet the investigating agency tomorrow morning and fully cooperate in the investigation. But what I had said on the first day, I am repeating today. I was never involved in any immoral activity individually or as custodian of the party," said Roy as quoted by a English daily.
The CBI had issued summons to the TMC general secretary in the second week of January, but Roy sought a leave from appearing before the agency sighting political engagements.
Trinamool leaders, including chief minister Mamata Banerjee, are jittery that Roy, who met arrested Saradha Group chief Sudipta Sen at least twice, could spill the beans on the party's association with the controversial businessman.
Two Trinamool MPs and a party vice-president are already behind bars while others are being grilled by central agencies. Opposition parties say it is a matter of time before the chief minister is called for questioning.
Since no one knows how much evidence CBI has against Roy, it has build anxiety for him.