Mamata Demands President's Rule In West Bengal
Buoyed by the victory in the Assembly bye-elections in West Bengal, Trinamool Congress chief Mamata Banerjee on Thursday demanded imposition of President's rule in the Left-ruled state, alleging that there was no governance.  "There is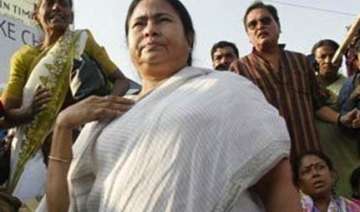 PTI
November 12, 2009 16:47 IST
Buoyed by the victory in the Assembly bye-elections in West Bengal, Trinamool Congress chief Mamata Banerjee on Thursday demanded imposition of President's rule in the Left-ruled state, alleging that there was no governance. 
"There is no governance. The atrocities are so high. 150 people of the Trinamool Congress have been killed since the Lok Sabha elections and the figure will be more than 300, if workers of other parties are included", Banerjee told reporters in New Delhi.
The Railway Minister made it clear that "we want Article 356 (imposition of President's rule) against atrocities." 
"Atrocities against Muslims, SC, ST and women are so high and the state government must act according to Constitutional provisions. The Central government cannot keep mum. We are not asking Article 356 for our victory", she said. 
Alleging that governance has come to such a pass in the state that even the letters of the Union Home Minister are not being replied, she said, this was "not fair" for democracy.  PTI