Mamata hits street, slams Modi government for land ordinance
Kolkata: Upping the ante against the Modi government, West Bengal Chief Minister Mamata Banerjee today took to the streets to protest against the land ordinance and said that instead of providing good governance the Centre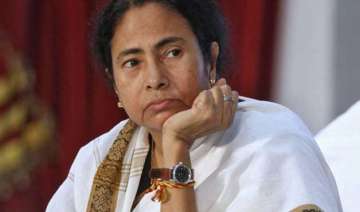 PTI
April 08, 2015 20:12 IST
Kolkata: Upping the ante against the Modi government, West Bengal Chief Minister Mamata Banerjee today took to the streets to protest against the land ordinance and said that instead of providing good governance the Centre was "giving indulgence to communal violence" and the situation was worse than Emergency.
"We are against this land ordinance. We have made our position clear and will stick to our stand that there should be no forcible land acquisition," she told a protest rally against the land ordinance which she led.  "They (Modi government) have brought land ordinance for the second time," she said.
Taking stock of the BJP government's performance, Banerjee said, "After about one year, if you go through its list of achievements, it is empty. They are only engaged in clicking selfies, giving indulgence to communal violence and dividing the people on religious lines. They are only telling lies," she said.
In an apparent reference to CBI sending notice to TMC seeking details of the party's accounts, she said, "Those who are thieves themselves are asking for accounts."
"If you want my party's account go and take it from income tax. Instead of that you are sending me notice. Notices will pile up and we will send them back to you. You have come to power and are sending me notices, tomorrow you will not be in power. The people will send you notice," Banerjee said.  
"I will speak hundred times against the forcible land acquisition. If you think that by sending notices you can shut my mouth, then you are wrong," she said.  
Accusing Modi government of "gagging the voices of those who criticise it", she said, "Congress had promulgated Emergency. Now it is more than Emergency in the country. The doors for the journalists have been closed. They have stopped everything.
"If anybody raises voice against it (Modi govt), his voice is gagged. He is intimidated with either CBI or ED or NIA or BSF."