Mamata ridicules AAP, BJP for raising funds from dinners, rallies
Kolkata: West Bengal Chief Minister Mamata Banerjee Saturday took jibes at the Aam Aadmi Party (AAP) and the BJP for raising funds from dinners and rallies attended by their top leaders.Launching her Trinamool Congress' manifesto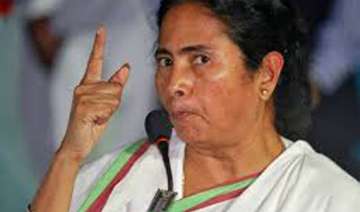 IANS
March 23, 2014 13:47 IST
Kolkata:
West Bengal Chief Minister Mamata Banerjee Saturday took jibes at the Aam Aadmi Party (AAP) and the BJP for raising funds from dinners and rallies attended by their top leaders.
Launching her Trinamool Congress' manifesto for the Lok Sabha polls, Banerjee mocked the AAP without naming it in an apparent reference to the recent fund-raising dinner organised in Bangalore during its leader Arvind Kejriwal's visit to the southern city.
"Nowadays, people are even taking money for lunch and dinner. There are different prices for different seats.
If you sit in front you pay more... maybe they had different prices for vegetarian and non-vegetarian food, different rates for plain water and coloured water," said Banerjee with a chuckle.
While not taking the names of the Bharatiya Janata Party or its prime ministerial candidate Narendra Modi, she remarked that some political parties were collecting donations from people to sit in the front row of their rallies.