Mamata rubbishes opposition's allegation on KMC poll
Kolkata: West Bengal Chief Minister Mamata Banerjee today refuted opposition's charge of malpractices in Kolkata Municipal Corporation (KMC) election, saying that 32 companies of central forces would be coming for tomorrow's election to 91 municipalities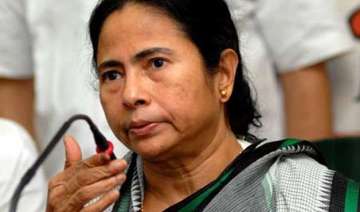 PTI
April 24, 2015 17:08 IST
Kolkata: West Bengal Chief Minister Mamata Banerjee today refuted opposition's charge of malpractices in Kolkata Municipal Corporation (KMC) election, saying that 32 companies of central forces would be coming for tomorrow's election to 91 municipalities across the state.
"Thirty-two companies of central forces are coming. The state government today received communication with regard to availability of central forces. It has been stated that they will be undertaking patrolling duty in poll-bound municipalities and will not be manning booths.  
"They are being sent at the last moment. Even then I thank them", Banerjee told reporters.
Rubbishing allegation of malpractices during KMC poll held on April 18, she said, "democracy has returned after 34 years (of Left Front rule), that is why criticism is being made. A section of media is giving wrong news to the people. A conspiracy has been hatched."
Banerjee said of the 4646 booths in KMC, complaints had come from only 10-12 booths which was a negligible percent.
The state administration had done very well during the KMC poll. Prompt action was taken whenever any complaint came. "I have never seen such a peaceful election".
"I am the (state) Home minister. You cannot show me a single instance where there was bloodshed and vote loot during the poll. Don't make one-sided allegation, there is no proof.
Whatever had happened at Singhibagan area had happened after the election was over. Some arrests were also made", Banerjee said.
"During the Left Front regime goons used to carry guns on the road when any election was held. We want peaceful poll and none should get provoked", she said.
A sub-inspector of police was allegedly shot at and injured at Singhibagan area soon after the end of polls for the city civic board on April 18.