Manish Tiwari supports CBI action against IB official in Ishrat Jahan encounter probe
New Delhi, July 7: Information and Broadcasting Minister Manish Tiwari has supported CBI action against senior Intelligence Bureau official Rajendra Kumar in the Ishrat Jahan encounter case, saying nobody can consider himself to be above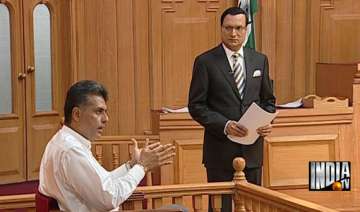 India TV News Desk
July 07, 2013 6:35 IST
New Delhi, July 7:
Information and Broadcasting Minister Manish Tiwari has supported CBI action against senior Intelligence Bureau official Rajendra Kumar in the Ishrat Jahan encounter case, saying nobody can consider himself to be above the law.
Tiwari was replying to questions in Rajat Sharma's show Aap Ki Adalat on India TV.
Tiwari's remarks come at a time when the director of Intelligence Bureau Syed Asif Ibrahim has written a letter to the Home Ministry questioning the CBI action by saying that this would cause demoralization among his officers.
"There is a dictum in law : Howsoever higher you may be, law is higher than you. This should apply to all in the Ishrat Jahan encounter case. It was nothing but inhuman cold-blooded murder committed in broad  daylight", said Tiwari.
"If the CBI finds the alleged role of some IB officials in this case, then let action be taken", the minister added.
Tiwari reminded that he had himself brought a private member's bill in Lok Sabha on the need to bring intelligence agencies within a proper legal ambit.
The I&B Minister said, "even if the charge is proved that Ishrat Jahan and her associates belonged to Lashkar-e-Toiba, the accused should have been prosecuted. A democratic country cannot allow police to commit cold-blooded murder in daylight. Even a terrorist like Kasab was brought to court and then hanged."