Jitan Ram Manjhi asks people to refrain from politics over Ajizpur clash
Muzaffarpur: Bihar Chief Minister Jitan Ram Manjhi today visited arson-hit Ajizpur village in Muzaffarpur district and asked people to "refrain from politics" over it.  He also requested everybody to maintain peace and communal harmony in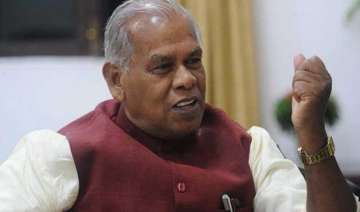 PTI
January 21, 2015 15:54 IST
Muzaffarpur: Bihar Chief Minister Jitan Ram Manjhi today visited arson-hit Ajizpur village in Muzaffarpur district and asked people to "refrain from politics" over it.  He also requested everybody to maintain peace and communal harmony in the society.
"I am asking people to refrain from politics over the clash. It is a sad incident and my sympathies are with the families of the victims. I am praying for peace and harmony.  Everybody should maintain peace and communal harmony in the society," Manjhi said.
Manjhi's remarks are being seen as a dig at the BJP, which had raised several questions regarding violence and police inaction at Ajizpur. Its senior leader and former Deputy Chief Minister Sushil Kumar Modi had visited the village yesterday and met the kin of the victims there.  
The Chief Minister reached the village via road route around 11 AM and spent around one hour there.  He met the families of the victims and announced Rs 1 lakh to each of them to repair their damaged houses and huts.  He also distributed blankets and packets of flattened rice among the people.
Manjhi praised the courage of Shail Devi of the village, who had saved 10 persons belonging to the other community from the rampaging mob, by giving them shelter in her hut.  "Shail Devi has done a very commendable job. She showed courage like Rani Lakshmibai of Jhansi and saved so many people. She has presented a role model to the society and she should be worshipped," Manjhi said.
The Chief Minister provided Devi a cheque of Rs 51,000 and a commendation letter recognising her selfless act. He also gave Rs 20,000 each to her two widowed daughters and said that the state government will provide more money if needed.
Manjhi also met the family members of the youth Bhartendu, whose abduction and murder had led to the violent clash. He had gone missing on January 9 and his dead body was found buried in an agricultural field in the village on January 18.
The Bihar Police has registered an FIR against 2,000 persons after the clash and arrested 14 so far.  RJD President Lalu Prasad also visited Ajizpur and strongly condemned the arson.
Accompanied by former Union minister Raghubansh Prasad Singh, Lalu Prasad sought stringent punishment for those found guilty in the incident.
He hit at BJP and asked its leaders to "stop shedding crocodile tears" over the event.
The RJD chief interacted with villagers and listened to their woes and assured them to convey their need to the state government.