Manjhi owns two guns, but no match to his ministers in wealth
Patna: Bihar Chief Minister Jitan Ram Manjhi possesses a double barrel gun and a rifle worth Rs one lakh, but he is no match to most of his ministers when it comes to wealth.His total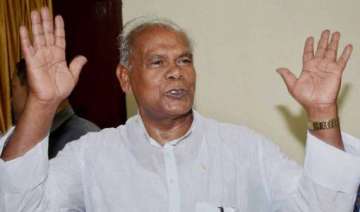 PTI
January 01, 2015 16:45 IST
Patna: Bihar Chief Minister Jitan Ram Manjhi possesses a double barrel gun and a rifle worth Rs one lakh, but he is no match to most of his ministers when it comes to wealth.
His total movable and immovable assets worth Rs 66.81 lakh.
Bihar Chief Minister and 30 ministers of his cabinet declared their wealth late last night, adhering to the state government's transparency norms for 2014. Incidentally, 13 of them (including Manjhi) possess various types of firearms including double barrel guns, pistols, rifles and revolvers.
Manjhi's assets do not indicate any significant growth over that in 2013. He keeps Rs 39,000 cash in hand, including Rs 17,000 with his wife. This is a little less than Rs 40,000 cash he and his wife had in 2013.
The 70-year-old chief minister has three bank accounts in SBI and Punjab National Bank (PNB) and total deposits worth Rs 13.65 lakh, but has no investment in bonds, shares orinsurance policies. He also has an car purchased in 2005 and a multi-utility vehicle bought in 2011.
Manjhi has no jewellery in his name, but his wife has 60 grams of gold ornaments and 250 grams of silver, both valued together at around Rs 1.78 lakh.
As far as agricultural land is concerned, Manjhi, whose father was a manual labourer at the farms of a landlord at their native village at Mahkar village in Gaya district, owns 5 acres of cultivable land worth Rs 37 lakh there.