Manohar Parrikar visits BEL in Bengaluru
Bengaluru: Defence Minister Manohar Parrikar on Saturday visited the state-run Bharat Electronic Ltd (BEL) here and laid the foundation stone for its training academy."The academy will organise training programmes to build technical and behavioral competencies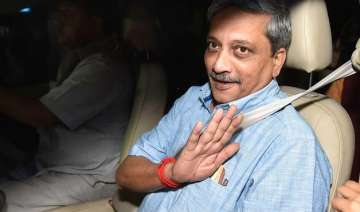 IANS
January 18, 2015 6:56 IST
Bengaluru: Defence Minister Manohar Parrikar on Saturday visited the state-run Bharat Electronic Ltd (BEL) here and laid the foundation stone for its training academy.
"The academy will organise training programmes to build technical and behavioral competencies in the Navratna defence undertaking," the company said in a statement.
Parrikar also visited the manufacturing, integration and test facilities for Akash missile system, coastal surveillance system, electronic warfare and avionics, super components and mass manufacturing unit in the BEL complex.
BEL chairman and managing director S.K. Sharma presented to the minister a cheque of Rs.1,23,59, 225 for the Prime Minister's National Relief Fund toward Jammu and Kashmir flood victims on behalf its officers and employees on the occasion.
"The visit to BEL has been an excellent R&D exercise," Parrikar wrote in the visitor's book.
The minister was on a day's official visit to the Karnataka capital to review various projects of the state-run Defence Research and Development Organisation (DRDO) and its aeronautical agencies, Hindustan Aeronautics Ltd (HAL) and BEL.