Maoists Helping Trinamool In Ousting Left Front Govt, Alleges Karat
The CPI(M) on Tuesday  alleged that the Maoists were engaged in the "nefarious" game of helping the Trinamool Congress in its bid to oust the Left front Government in West Bengal.  "They (Maoists) are acting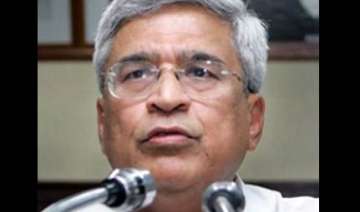 PTI
November 17, 2009 21:18 IST
The CPI(M) on Tuesday  alleged that the Maoists were engaged in the "nefarious" game of helping the Trinamool Congress in its bid to oust the Left front Government in West Bengal. 
"They (Maoists) are acting in collusion with the Trinamool Congress in West Bengal. They are playing a very nefarious game of helping the Trinamool-Congress combine to try and oust the Left Front Government in West Bengal," CPI(M) general secretary Prakash Karat told reporters in Hyderabad.
Stating that not a day passed without attacks on CPI(M) cadres and supporters, he claimed that in the last few months after the general elections, the Maoists had killed about 70 of the Left party's members and sympathisers.  
"What are the Maoists hoping to gain by targeting CPI(M). A Maoist leader Koteshwara Rao says in a television interview that they want TMC chief Mamata Banerjee as the next Chief Minister of West Bengal. This collusion between the TMC and Maoists fully exposes the so-called revolutionary character and the movement of the Maoists," he said. 
The CPI(M) leader alleged that the TMC and the Congress were trying to undo the gains of land reforms and decentralisation in Panchayats in West Bengal ushered in by the Left front government. 
Stating that the Union government has been apprised of the fact that most of the Maoist activities in West Bengal were being organised from Jharkhand, he asked the Centre to seriously take up socio-economic development programmes in naxal-affected areas.  
"Unless they (Centre) are able to control the situation in Jharkhand, this matter cannot be solved. We also need cooperation between states to solve and control this matter," he added.  The CPI(M) leader said the Maoists should not be treated as terrorist group like the LeT.
"They move on the basis of certain ideology and politics and unless that ideology and politics is countered... and that is a political job which cannot be done by the government."  Karat said his party will continue to oppose the Maoists politically and ideologically. 
"We are not going to give up the fight and will continue to mobilise the people against the Maoists and their unholy combination with the TC. We have no truck with Maoists and consider their ideology as outmoded and politics, and use of violence as disruptive," he said. PTI