Maoists To Contest Jharkhand Polls
Even as the Centre grapples with the challenge of conducting peaceful elections in Jharkhand despite the Maoist threat, Jharkhand Mukti Morcha chief Shibu Soren on Friday welcomed a former Naxal leader and the wife of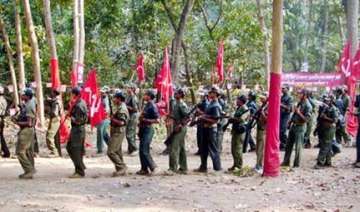 PTI
November 07, 2009 10:42 IST
Even as the Centre grapples with the challenge of conducting peaceful elections in Jharkhand despite the Maoist threat, Jharkhand Mukti Morcha chief Shibu Soren on Friday welcomed a former Naxal leader and the wife of a jailed Maoist and announced them as his candidates for the upcoming five-phase polls in the state.
Soren, shunned by his former ally Congress, is learnt to be desperately seeking the support of the Maoists in a bid to shore up his declining political fortunes. In tribal- dominated Jharkhand, Maoists hold sway in over 20 of the 22 districts in the state.
Soren, who was earlier the Chief Minister of the state with support from the Congress, RJD and independents, is now going alone on all the 81 seats.
Satish Kumar, a former CPI(Maoist) leader who was recently released from jail and Shobha Pal, wife of Ugal Pal, a top Maoist leader, currently in jail, joined the JMM in presence of Sibu Soren in Daltonganj today. Jharkhand Vikas Party (JVP), an over ground front of Maoist leaders also merged with the JMM today.
Soren announced that Satish Kumar would be his candidate from Daltonganj while Pal from Bishrampur — both heavily Naxal-dominated regions.
Satish Kumar, was a senior member of the Special Area Committee of the CPI (Maoist) and in charge of the banned group's operations in north Bihar and UP. He was recently released on bail and thereafter he joined the Jharkhand Vikas Party (JVP). Until recently, he would guide journalists to "Naxal hideouts" to meet leaders.
Shobha Pal's husband is a central committee member of the CPI (Maoist). After joining JMM, she announced  that her husband, too, had become a part of the party.
This is not the first time that known Maoist leaders are joining the mainstream by contesting elections. In the last Lok Sabha polls, Kameshwar Baitha, a one-time area commander of the MCC — Maoist Communist Centre which merged with the People's War Group to form the CPI (Maoist) — won election from Palamau as an independent with active support from local Congress leaders.