Mayawati Says, Centre Trying To Hush Up Ayodhya Issue
Uttar Pradesh Chief Minister Mayawati on Wednesday said the Action Taken Report tabled by the UPA government in the Parliament was an attempt to "hush up" the sensitive Ayodhya issue. She charged the Congress and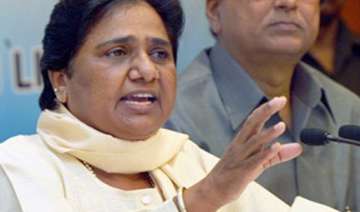 PTI
November 25, 2009 20:09 IST
Uttar Pradesh Chief Minister Mayawati on Wednesday said the Action Taken Report tabled by the UPA government in the Parliament was an attempt to "hush up" the sensitive Ayodhya issue.
She charged the Congress and BJP with trying to take political mileage out of the Liberhan Commission report and alleged that an attempt was made to flare up communal tension by leaking the report.
"The Centre has made an attempt to hush up the matter in its ATR tabled in Parliament yesterday, which is a condemnable attempt. Moreso an attempt was made to flare up communal tension by leaking Justice Liberhan commission report," Mayawati told reporters in Lucknow.
She claimed that the BJP, Congress and SP were squarely responsible for demolition of disputed structure in Ayodhya on December 6, 1992.
"At that time Congress was ruling at the Centre and the BJP was having a government in the state. Without a joint conspiracy demolition of the structure was not possible.
"SP on the other hand flared up tension among Muslims and tried to take political milege out of the issue. Whether it be Congress, BJP or SP, they had always used the issue only for political gain and had made no efforts to find a solution to it," she said.
Mayawati alleged that the Congress raked up the issue for political gain by unlocking the disputed structure in 1986 and then allowing shilanyaas. "By giving provoking statements, Mulayam Singh Yadav too mislead the people," she said.
Congress attacked Mayawati for her statements that the Ayodhya issued was being hushed up by the UPA government and an attempt was being made to flare up communal tension by leaking the Liberhan Commission report.
 "She was elected as CM for the first time with the help of the BJP, which was responsible for the demolition of Babri Masjid," party spokesperson Jayanthi Natarajan told reporters .
 Natarajan added, "she has no moral right to even question it and talk about it. In the very next election (in UP), she shared power with the BJP".  PTI