Meenakshi Lekhi declares assets worth Rs.34 cr
New Delhi: BJP candidate and spokesperson Meenakshi Lekhi filed her nomination papers from the New Delhi constituency today and declared her assets worth over Rs 34 crore which includes wealth of her husband and two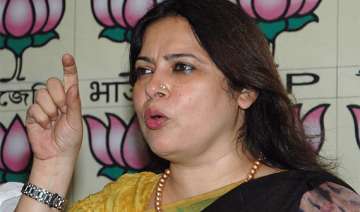 PTI
March 22, 2014 10:14 IST
New Delhi:
BJP candidate and spokesperson Meenakshi Lekhi filed her nomination papers from the New Delhi constituency today and declared her assets worth over Rs 34 crore which includes wealth of her husband and two children.  
Lekhi has shown Rs 39 Lakh as income in her last year's income tax return while her husband Aman Lekhi declared Rs 3.4 crore income for for this period.
She possesses 1170 gm of gold valued at Rs 32 lakh and 390 gm of polki worth Rs 13 lakh.
Lekhi and her husband's movable assets is worth approximately Rs 7 crore while the immovable property is worth Rs 27.9 crore. Her husband has a liability of approximately Rs 32 lakhs.
Former chief minister late Sahib Singh Verma's son and sitting MLA from Mehrauli assembly seat, Pravesh Sahib Singh Verma is contesting  from BJP, has assets worth over Rs 10.72 crore that include both movable and immovable properties.