Metro man E Sreedharan endorses Modi
New Delhi: 'Metro man' E Sreedharan today came out in support of BJP's prime ministerial candidate Narendra Modi, saying he hoped bold decisions under his leadership will fasten government's decision-making process.  "Our problem is basically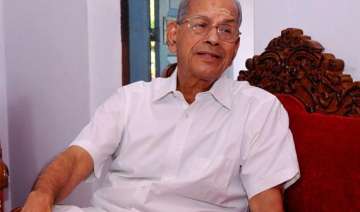 PTI
March 08, 2014 10:36 IST
New Delhi:
'Metro man' E Sreedharan today came out in support of BJP's prime ministerial candidate Narendra Modi, saying he hoped bold decisions under his leadership will fasten government's decision-making process.  
"Our problem is basically delay in taking government decisions and bureaucracy is responsible for it.
We don't have self confidence to take bold decisions," Sreedharan, former managing director of Delhi Metro, said.  
Although he did not blame either central or the state government, Sreedharan said he hoped that Modi will fasten the decision making process in the country.
"I think there will be a change in decision making process. From what I have seen, the decisions he (Modi) has taken till now were very fast," Sreedharan said.