10 years of MGNREGA: Modi govt takes U-turn, now equates it with 'national pride'
New Delhi:  The 10th anniversary of MGNREGA (Mahatma Gandhi National Rural Employment Guarantee Act ) has seen Narendra Modi-led NDA government taking a complete U-turn on the flagship rural job guarantee scheme introduced by Manmohan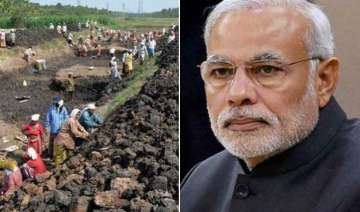 Raj Singh
February 02, 2016 17:21 IST
New Delhi:  The 10th anniversary of MGNREGA (Mahatma Gandhi National Rural Employment Guarantee Act ) has seen Narendra Modi-led NDA government taking a complete U-turn on the flagship rural job guarantee scheme introduced by Manmohan Singh-led UPA government.
The scheme was launched  with much fanfare by UPA-I government  in February 2006.
Just a year ago, Prime Minister Narendra Modi had himself termed MGNERGA an example of the failures of the UPA government. Modi had sarcastically said that his government will not disband the scheme just to showcase the monumental failure of Congress governments.
Read Also: Spending on MGNREGA at record high, no cut in allocation says, Arun Jaitley
"Do you think, I will put an end to the scheme? My political wisdom does not allow me to do it. This is a living monument of your failure to tackle poverty in 60 years. With song and dance and drum beat, I will continue with the scheme," Modi had said during the Budget Session last year.
However, Modi govt has changed its tack all of a sudden and now it believes that the achievements of MGNREGA are a "cause of national pride and celebration".
Not only this, Modi government is now trying to claim credit for revival of this scheme and has promised that the government in future will try its best to simplify the procedures and build sustainable assets to benefit the poor.
Underlining the commitment of Modi government to make MGNREGA a big success story, Finance Minister Arun Jaitley today said that under UPA regime, funds were allocated for this scheme but were not spent owing to indifferent attitude of Manmohan Singh government.
"By 2013-14, the indifference on the part of the government was becoming noticeable. After we took over, there were speculations over possibilities of govt either cutting down the funds for MGNREGA or renaming the scheme. We did nothing of this sort. In fact, this will be the first year when provisions for development have been made in this scheme," Jaitley said.
Read Also: MGNREGA workdays increased from 100 to 150 in drought-affected areas
Modi government further claims that since the start of the scheme, the expenditure on the programme has amounted to over Rs 3,13,844.55 crore of which 71 per cent has been spent on wage payments to workers. It has also claimed positive results for vulnerable sections of the socity including SCs, STs and women.
"Of the workers, the percentage of Scheduled Caste workers has consistently been about 20 per cent and Scheduled Tribe workers has been about 17 per cent," government said in a statement adding that a total of over 1,980 crore person days have been generated so far out of which the percentage worked by women has steadily increased much above the statutory minimum of 33 per cent.
"Sustainable assets have been created linked to conservation of natural resources and overall development of Gram Panchayats. More than 65 per cent of the works taken up under the programme are linked to agriculture and allied activities," the statement said.
Under MGNREGA, every willing household is guaranteed a minimum 100 days of employment out of the 365 days in a year within 15 days of making such a requisition. Inability to provide employment within 15 days from the date had to be compensated through an unemployment allowance.
The UPA government had flaunted MGNERGA as a shining example of its commitment to the welfare of non-skilled blue-collared workforce.  If political commentators are to be believed, this scheme did help Congress better its image among the labour-class in both rural and urban areas.
Political pundits also believed that the success of MGNREGA played a big role in the resounding comeback of Manmohan Singh-led UPA government in 2009 general elections.
In fact, various studies had also lauded the positive impact of this scheme in fighting poverty in the country.
 A study conducted in 2015 by NCAER  (National Council of Applied Economic Research study) said that the Act helped in lowering poverty by almost 32 per cent between 2004-05 to 2011-12 and prevented almost 14 million people from falling into poverty.
However, the utility and deliverance of MGNREGA under UPA-II (from 2009 onwards)  was questioned and criticised by 2013 report of the CAG(Comptroller and Auditor General of India).
The CAG report claimed that from 2009-10 to 2011-12, only 20 per cent of total funds allocated under the scheme was released to states like Bihar, Maharashtra and Uttar Pradesh where almost almost 46 per cent of India's rural poor stayed. The report also hinted rampant corruption and swindling of public funds in the scheme.