Modi a "property dealer" for Ambani, Adani and Tatas: Kejriwal
Ahmedabad: Launching a broadside against Narendra Modi on his home turf, AAP leader Arvind Kejriwal Saturday called the BJP's Prime Ministerial candidate a "property dealer for corporates like Ambani, Adani and Tatas".Addressing his maiden rally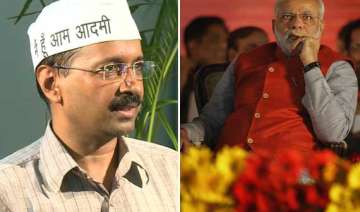 PTI
March 09, 2014 12:12 IST
Ahmedabad:
Launching a broadside against Narendra Modi on his home turf, AAP leader Arvind Kejriwal Saturday called the BJP's Prime Ministerial candidate a "property dealer for corporates like Ambani, Adani and Tatas".
Addressing his maiden rally in Gujarat on the concluding day of his four-day "fact-finding" tour on the development claims made by Modi, Kejriwal said the Gujarat chief minister denied him appointment yesterday because he was "afraid" of facing him.
"People of Gujarat are fed up of corruption and want a change. Corruption is rampant in the state and education and health services are in shambles," Kejriwal said at the rally held after his roadshow.
"As the Haryana chief minister is the property dealer for Robert Vadra, the Gujarat chief minister Narendra Modi is property dealer for Adani, Ambani and Tatas.  "He acquires land from farmers and gives (it) to industrialists at throwaway prices," Kejriwal alleged.