Modi a good speaker, but he should learn from Rahul, says Misa Bharati
Patna: Misa Bharati, the feisty daughter of Rashtriya Janata Dal supremo Lalu Prasad, today clarified that Narendra Modi was good speaker, no doubt, but that does not necessarily mean that he would be a good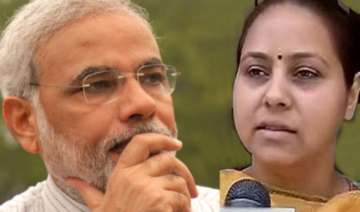 India TV News Desk
March 10, 2014 13:15 IST
Patna:
Misa Bharati, the feisty daughter of Rashtriya Janata Dal supremo Lalu Prasad, today clarified that Narendra Modi was good speaker, no doubt, but that does not necessarily mean that he would be a good Prime Minister.
Speaking to reporters, Misa Bharati said, she never gave the statement that one should learn from Modi.
"On the contrary, Modi should learn from Rahul Gandhi, how he goes to meet coolies, fishermen and common people. To be a good speaker is one thing and to be good prime minister is a different thing", she said.
Misa Bharati said, "Atal Bihari ji (former PM) was a better speaker than Modi, no doubt."