Modi government 'removing protection' of vulnerable: Tharoor
Kolkata: Stressing that his party believes in distributing revenue to the needy, Congress MP Shashi Tharoor Thursday said the Narendra Modi government seems to be moving towards the "removal of protection" of India's vulnerable population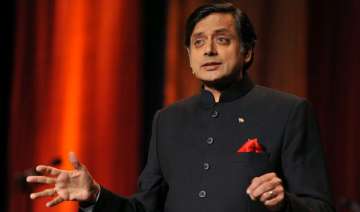 IANS
January 15, 2015 22:09 IST
Kolkata: Stressing that his party believes in distributing revenue to the needy, Congress MP Shashi Tharoor Thursday said the Narendra Modi government seems to be moving towards the "removal of protection" of India's vulnerable population which could be "dangerous".
"We in the Congress believe that we need both economic growth and a determination to distribute the fruits and revenues to those who need it most in our unequal society and the magic of the market is not going to appeal to those who can't afford to enter the market place," Tharoor said during the launch of his book "India Shastra" here.
"And that is what the Congress party has consistently understood. We are distinguished from the Communist Left by our refusal to reject every innovation that can be progressive.
"We are open to change and progress, to growth. We have modern minds but unlike the 'India Shining' lot, we know there is large part of India that is not shining," he said.
In contrast, the former union minister said the Modi government was focusing only on the macro-economic picture.
"The Modi government appears to be emphasising the growth and completely jettisoning the distribution and we believe that it's a dangerous thing," he said.
Referring to the government's take on the rural employment guarantee scheme, Tharoor said: "The new government is happy to dump it all and look at only the macro-economic picture."
"This government is apparently heading towards further and further removal of the protections that protect the vulnerable of our society and that could be a very, very dangerous development in the months to come," he said.