Modi hurricane will topple big trees, Paswan tells Aap Ki Adalat
New Delhi: Lok Janshakti Party president Ramvilas Paswan today said the current gale in favour of BJP and Narendra Modi will soon take the shape of a hurricane by the time election progresses. "Many big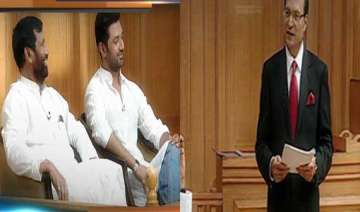 India TV News Desk
March 24, 2014 9:36 IST
New Delhi:
Lok Janshakti Party president Ramvilas Paswan today said the current gale in favour of BJP and Narendra Modi will soon take the shape of a hurricane by the time election progresses. "Many big trees will be uprooted this time", he added.
Paswan was replying to questions in Rajat Sharma's TV show Aap Ki Adalat on India TV, to be telecast tonight.
Paswan said, it was he and his party which has triggered an exodus of parties and leaders towards BJP.
"When we joined the NDA, Modi was an untouchable for other parties. There were only Shiv Sena and Akali Dal, but now MDMK, PMK, Lok Samata Party and several other parties have joined the BJP-led alliance", said Paswan.
"Just wait and see, this is the first phase of elections. I am sure the gale will soon turn into a hurricane by the time election concludes. Many big trees will be uprooted", said Paswan, who till last month was part of UPA and was highly critical of Modi for 2002 Gujarat riots.
Asked why he was supporting Modi, because of whose role in Gujarat riots, he had resigned from Vajpayee's government in 2002, Paswan said: "From 2002 to 2014, twelve years have elapsed. How long can we stick to the same wheel, chanting Godhra, Godhra, over and over again."
Asked whether there was any guarantee that no big riots would take place if the NDA returned to power, Paswan said: "There will be no riots. We will stand firm on the issue of secularism. We will not allow a handful of people to do politics in the name of secularism."
Paswan said, "had I joined the NDA two months earlier, our party LJP would have got 12 instead of seven seats from the BJP. We waited for three months, but the Congress leaders had no time to meet us. Moreover, our party leaders and workers were putting pressure on us to join the NDA".