PM Modi urged not to share stage with Sharad Pawar during his Baramati visit
Baramati/Sangli: Bharatiya Janata Party (BJP) ally in Maharashtra, Swambimani Shetkari Sanghatna, has urged Prime Minister Narendra Modi not to share dais with Nationalist Congress Party (NCP) chief Sharad Pawar during his visit to Baramati in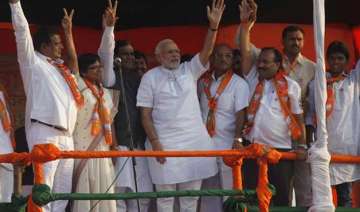 India TV News Desk
January 26, 2015 9:59 IST
Baramati/Sangli: Bharatiya Janata Party (BJP) ally in Maharashtra, Swambimani Shetkari Sanghatna, has urged Prime Minister Narendra Modi not to share dais with Nationalist Congress Party (NCP) chief Sharad Pawar during his visit to Baramati in next month.
The Prime Minister is slated to visit Baramati, a stronghold of former union minister Sharad Pawar, to inaugurate a new Krishi Vigyan Kendra on February14. The project was approved by the Agriculture Ministry under Pawar in the erstwhile UPA II government.
The latest development came close to the reports suggesting that Sharad Pawar could share stage with Modi. The Prime Minister will also be addressing a rally of farmers.
Rajendra Dhawan, the Pune District president of the Swabhimani Shetkari Sanghatna, said that the outfit has faxed a letter to the Prime Minister urging him to avoid sharing dias with the Pawar.
"We hope the Prime Minister will not join hands with the Pawar and embarrassment for one and all, including the BJP, Shiv Sena and our Shetkari Sanghatna," he said.
He also reminded Modi that he had promised to free people of Baramati from the 'gulam-giri of the uncle-nephew duo'.
"The Prime Minister had said that people should vote BJP to power and then he would free them from the gulam-giri of the uncle-nephew duo. The entire nation heard this promise on live television," he said.
"It will be highly unfortunate if the PM failes to listen to the farmers' voices. BJP in fact will lose its credibility in the state," he added.
Meanwhile, the Sanghatna has threatened to boycott the farmers' rally being organised by the NCP during Modi's visit to Baramati.
During the state assembly elections in October, Modi had attacked Pawars for keeping Baramatikars as 'gulam'.