Modi's 3D campaign during LS polls cost BJP Rs 60 crore
New Delhi: The innovative idea of campaigning through 3D holographic images of Narendra Modi cost BJP dearly in the 2014 Lok Sabha elections.The hi-tech campaign enabling Modi to address more than 700 virtual rallies cost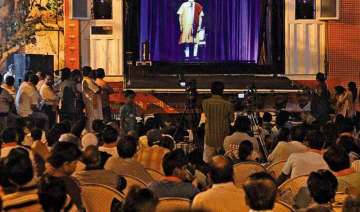 India TV News Desk
January 23, 2015 20:06 IST
New Delhi: The innovative idea of campaigning through 3D holographic images of Narendra Modi cost BJP dearly in the 2014 Lok Sabha elections.
The hi-tech campaign enabling Modi to address more than 700 virtual rallies cost the party around Rs 60 crore.
The license fee alone for the two months of campaigning was Rs 10 crore.
According to the poll expenditure details submitted by the party to Election commission, Rs 51.35 crore were spent on the virtual rallies Modi addressed between March and May 2014. This is above the license fee paid for the same.
Before this, in 2012 Gujarat elections also, the BJP star campaigner created a Guinness World Record when his holographic 3D images were simultaneously telecast in 25 cities at 53 distinct locations.
All the rallies were recorded by Modi during nights as he was busy addressing rallies in different parts of the country.
Apart from this, BJP had followed certain other strategies to promote the party campaign during elections. It had spent around Rs 487 crore in promotional activities including Rs 304 crore spent exclusively on advertisement and bulk SMSs.
The travel expenses of its star campaigners including Modi were around Rs 78 crore. Rs 6 lakh were spent on the surveys conducted by the party during polls.
Party had used another hi-tech technology of 'LED raths'  for promotion in various parts of the country during the Lok Sabha elections. The party spent around Rs 19 crore on other heads like  event management, insurance and generators. 
There were hi-tech call centres of BJP across the country to convey information to the cadres of the party who conducted the LED rath yatra.