Money And Official Power Used Against SP: Mulayam
Having drawn a blank in the bypolls in Uttar Pradesh, Samajwadi Party chief Mulayam Singh Yadav on Tuesday  alleged money power and the administrative machinery were "used against us".  "It is the people's verdict and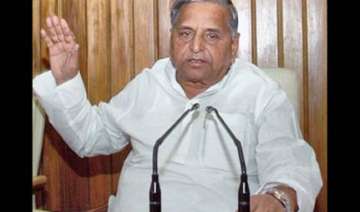 PTI
November 10, 2009 22:53 IST
Having drawn a blank in the bypolls in Uttar Pradesh, Samajwadi Party chief Mulayam Singh Yadav on Tuesday  alleged money power and the administrative machinery were "used against us". 
"It is the people's verdict and we have to accept it as such. In a democracy, the people are the masters and their verdict has to be accepted as such. We have accepted our defeat but money power and the power of the government has been used against us", Yadav told reporters in Varanasi.
Asked about the result in Firozabad Lok Sabha constituency where his daughter-in-law Dimple lost, Mulayam Singh said "we had won the Firozabad recently and the people of the constituency are still with our party. Firozabad seat has been snatched from us using money power." 
SP lost four assembly seats in UP to ruling BSP in the byelections to 11 assembly seats besides failing to retain Firozabad seat for which Congress candidate Raj Babbar emerged triumphant. SP also lost the Etawah seat in the home town of the SP supremo. PTI