MPs, ministers must be present in house: Sonia
New Delhi, Aug 6: Congress chief Sonia Gandhi Monday told newly-appointed party whips to ensure party MPs and ministers on roster duty are present in the Lok Sabha, said party sources.Gandhi made the observation in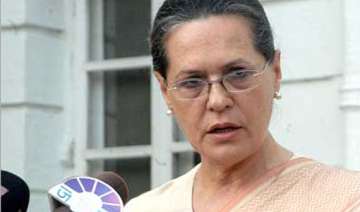 IANS
August 06, 2013 7:26 IST
New Delhi, Aug 6
: Congress chief Sonia Gandhi Monday told newly-appointed party whips to ensure party MPs and ministers on roster duty are present in the Lok Sabha, said party sources.
Gandhi made the observation in the brief interaction she had with the new chief whip Sandeep Dikshit and his team in the parliament office, the sources said, adding the instructions come in view of key bills, including the food security ordinance, that the government wants to pass in this session.
She also wants the Congress lawmakers to set an example by being regular in attendance in the lower house so that a message goes out not only to the people but also to the oppposition parties, said a source who was present during the meeting.
There have been instances in the past sessions when the treasury benches had thin attendance even as the house took up important debates.
Dikshit is the new chief whip with Madhu Goud Yaskhi, MP from Amndhra Pradesh's Nizamabad, as his deputy.
The three new whips are Ijayraj Singh from Rajasthan, R. Dhruvnarayan from Karnataka and Ravneet Singh Bittoo from Punjab.
Former chief whip Girija Vyas is now a cabinet minister. Ranee Narah the other deputy chief whip is also a junior minister now.