Mufti calls for promoting high-density orchards in JK
Jammu: Advocating for best practices in fruit farming, Jammu and Kashmir Chief Minister Mufti Mohammad Sayeed today pushed for promotion of high-density orchards with facility of micro-irrigation to arrest the fall in apple production in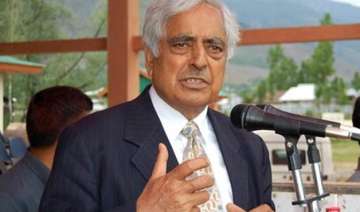 PTI
April 21, 2015 18:48 IST
Jammu: Advocating for best practices in fruit farming, Jammu and Kashmir Chief Minister Mufti Mohammad Sayeed today pushed for promotion of high-density orchards with facility of micro-irrigation to arrest the fall in apple production in the state.
The chief minister also asked the Horticulture Department to take immediate necessary steps to get certification for declaring walnut, almonds, apricots and Ladakh vegetables as produce of organic farming.
"This will ensure far higher returns than what we are getting today for these fruits," Sayeed said, while chairing a high-level review meeting on the Horticulture sector in Jammu.
Describing development of Horticulture sector as the prime focus of the government, he said that since old plantations are leading to falling yields in apple production, there was a need to shift to high-density orchard in a time-bound manner for which stocks can be imported from the European countries.
To begin with, the CM said, the department should choose five to seven locations for micro-irrigation and sprinkling so as to encourage people towards high-density orchard.
Stressing upon the need to shift to commercial farming to increase fruit production, the Sayeed said the government will offer a package of incentives to the growers for improving the quality and volume of production in the state.
"Apple continues to lead fruit production in the state with 64 per cent of the total produce, followed by walnut and almonds," he said.
"Our potential in exports is far greater than the Rs 4,500 crore we earned last year by exporting 10 lakh ton of fresh and dry fruits," he added.
Equating the potential of Horticulture sector with that of the Tourism sector, the chief minister said there was a need to properly implement the market intervention scheme to help facilitate growers to sell their produce with improved returns.
Sayeed emphasised upon the need for standardizing quality control and proper packaging of the produce to meet international benchmarks in fruit marketing.
He said the results of the experiments undertaken in Agricultural Universities should show results on the ground and not remains confined to research only.
"The department should identify areas which have potential for commercial farming which will provide huge economic gains in national and overseas markets," he said.
Expressing concern over low-yield of fruit produce in Jammu division, the chief minister directed the department to find out reasons and suggest ways and measures for improving the production.
"The government will offer incentives to fruit growers for commercial farming of mangoes, litchi, walnut, apples and apricot in Jammu division. There should be better coordination between the department and Sher-e-Kashmir University of Agricultural Sciences and Technology (SKUAST) to encourage growers to shift to commercial farming for better economic returns," he said.
Mufti was told that 9.21 lakh metric tons of losses were suffered in production and over 1.47 lakh hectares of land was affected in the floods of 2014.