J&K CM Mufti Mohammad Syeed to meet PM Modi today
Srinagar: Jammu and Kashmir Chief Minister Mufti Mohammad Syeed will today meet Prime Minister Narendra Modi over dinner in New Delhi.Sources said that Mufti will brief the Prime Minister about the situation in the state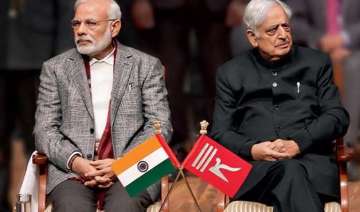 India TV News Desk
April 04, 2015 10:47 IST
Srinagar: Jammu and Kashmir Chief Minister Mufti Mohammad Syeed will today meet Prime Minister Narendra Modi over dinner in New Delhi.
Sources said that Mufti will brief the Prime Minister about the situation in the state arisen due to the recent heavy rainfall. 
Mufti will also be taking up the issue of release of Rs 44,000 crore flood relief package.
The Chief Minister will also discuss with Modi about the current political situation in the state. 
The meet hold significance because reports are doing rounds that PDP may join NDA government at the Center. Sources said that Mehbooba Mufti, chief of the Peoples Democratic Party (PDP), may be given a Cabinet berth in the next rejig of the Council of Ministers which is likely to take place in April 8. 
On March 1, the BJP and PDP together have clinched an alliance in the state to provide a 'stable' government to the people of border state.